Post by Zulu on Dec 1, 2015 0:13:21 GMT
Nuha
"Mind"

Gender: Female
Age: Adolescent
Parents: Kovu and Kiara

Siblings:
Firstborn: Khari
Secondborn: Nuha
Thirdborn: Tarajii
Appearance
• Dark brown fur like her father, but in a more dusty shade
• Has Kovu's outlander-like nose and long cheek tufts
• Resembles Kiara in head/ear shape and general physique, though Nuha is more lean and muscular
• Has Kiara's large, round eyes and Kovu's dark orbits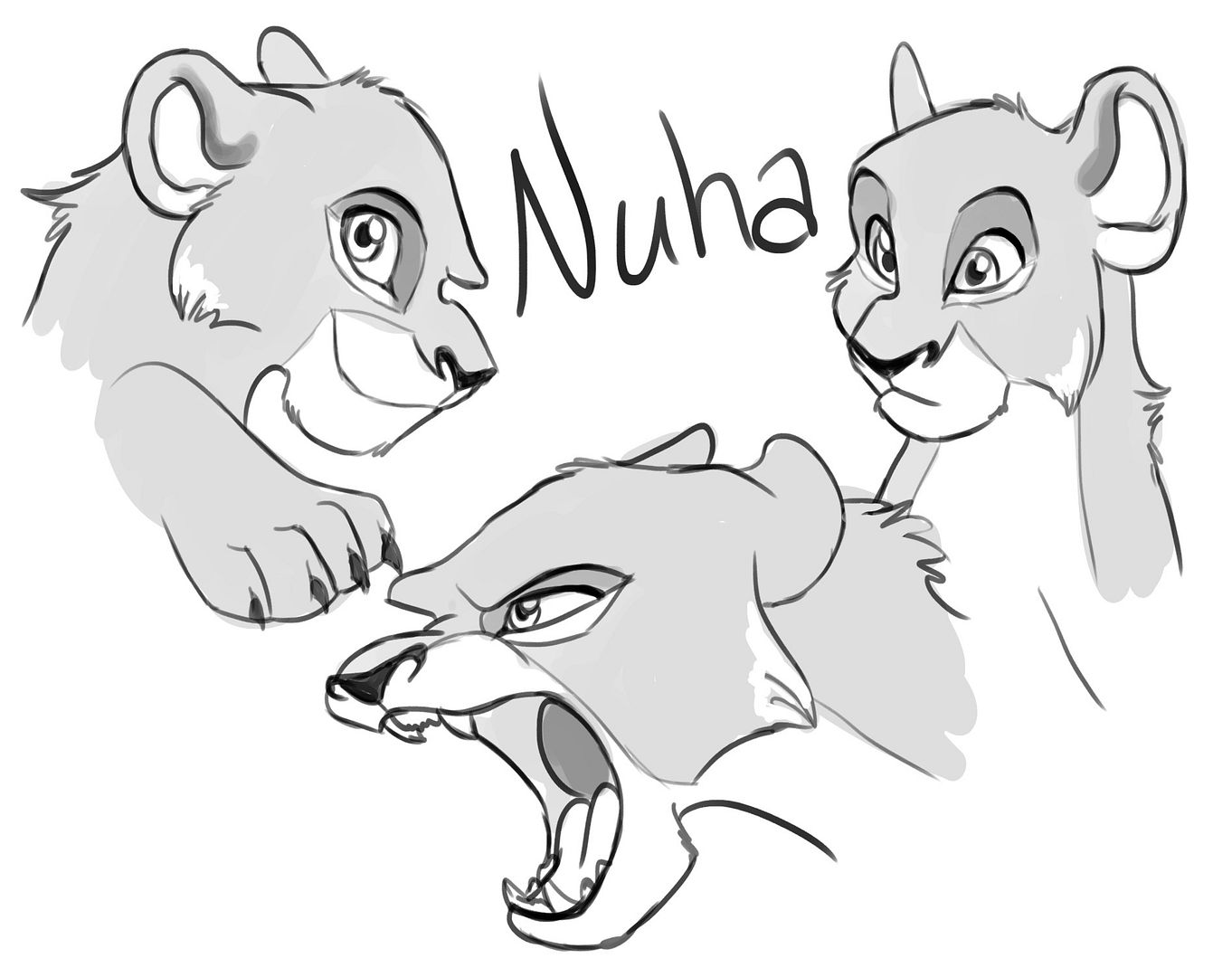 Biographical Information
• Roleplays: Til the Pridelands' End
• Second-born of Kovu and Kiara's litter of three cubs
• Heir to the Fiercest of the Lion Guard and the Roar of the Elders
• First female leader of the Lion Guard in memorable Pridelands history
• Adolescent at the time of "Til the Pridelands' End"
• Nuha's siblings are her older brother Khari and younger sister Tarajii
Personality
Nuha has observant, inquisitive propensities. She's likely to notice the minutia in her surroundings better than most of her family or companions. Nuha is known to become distracted from her responsibilities and grow insatiably curious about seemingly inconsequential things. She has a general sense of lightheartedness and wonder about her. Her talent for observation and questioning often manifest themselves in the form of creativity - she comes up with unconventional ways to solve problems, which those around her often chuckle at and ignore.
Nuha's indiscriminate interest in the world extends to other animals. She is eager to fire up conversations with anyone who seems new or different to her. She also finds it difficult to think ill of others, since she takes their perspectives so heavily into consideration. She's averse to conflict unless something stands out as obscenely unjust to her. Even then, her goal is not to destroy troublemakers, but to help them think more complexly. Though she is noble in this respect, she doesn't always use her value of empathy in the most effective way. She has trouble determining when to be a diplomat and when to put her foot down, and sometimes it leads to others' walking all over her.
Though she is hesitant to engage in conflict, Nuha approaches her duty as Lion Guard leader with a strong sense of responsibility. She is committed to leading in ways that lend to peacekeeping and respect among all animals in the Pridelands. As a young lioness with such radical ideas about guard management, Nuha has a long way to go before she can prove herself to be a wise and effective leader.